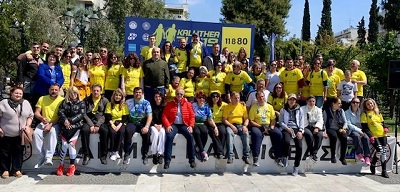 Our volunteers are one of the most important support systems in the organisation and the success of our event which takes place for third time in our city.
Your participation in the unique event of the Kallithea Half Marathon, as well as the shorter races, within the amazing space of the Stavros Niarchos Foundation Cultural Centre will give you the opportunity to experience something special alongside the athletes, the organizers, and all the friends or the road running movement who participate in different areas of the event.
At the same time, you are writing your own personal history with memories that will last a lifetime, meeting new people and learning about other cultures, sharing your enjoyment with the athletes and the spectators.
If you are a university student, a high-schooler, an employee on your day off or a retiree, you can join us as a volunteer. This will provide you with experiences that you can use in your CV or you can even carry out research in your field of study during the preparation of the event. You can rest assured that everything you will experience during this weekend will be an integral part of a successful organisation with YOUR PARTICIPATION and YOUR SMILE.
You can select the position that best suits your personality and skills, in transfer services, in registration, in translation/interpretation, in media, in the Press office, along the route of the races, in the medical services, in runner support, in the award ceremonies. Contact us and let us know which area of the organisation you would like to support through your volunteering.
Join our Strong Volunteers Team
All of our volunteers will be provided with a special Event T-shirt, a medal, and a certificate of participation along with the gifts generously offered by our sponsors.
Just click on the link to go to the Volunteer Registration Form